---
Auto Seat Cover Co.
201 South Cameron St.
Harrisburg, PA 17111

phone
717.238.9611
fax
717.238.3351

Hours
M-F 9am - 5pm EST

---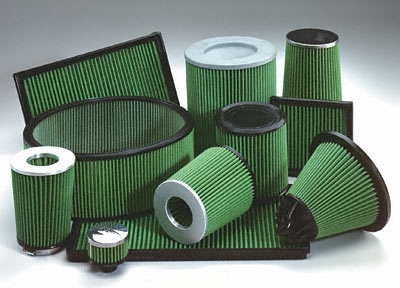 Green High Performance Air filter started nearly a decade ago designing filters for the motor sport industry in Europe. Staying committed to producing the highest quality filters available, Green is used by a number of top race teams (Peugeot Sport:World Rally Champions, Oreca Dodge Viper race team, Honda Europe, BMW Formula). The experience and expertise gained from supplying these sports teams quickly promoted the company to becoming Europe's largest performance air filter manufacturer. Since 2000 the prestigious EAQF manufacturing standard was awarded to Green Filter for their consistently high quality manufacturing processes. Green's production technology is always improving with the most cutting edge processes and equipment. Also being committed to servicing our customers Green's range of filters is constantly expanding. We stand by our guarantee of providing customers with what we think is the best filtering technology available.

Because of its unique properties and organic composition, cotton is the ideal material for use in high performance air filters. But beyond the mere use of the material, Green High Performance Air Filters are uniquely designed, engineered, and manufactured to take full advantage of cotton's capabilities. Unlike multi-layer gauze filters which can fray and release fiber particles into your engine, Green uses 2 layers of tightly-interwoven cotton fabric. Cross-weaving one fine, and one medium layer, produces a fabric that is thinner and stronger than other materials, while maintaining the ability to trap harmful dirt particles as small as 5 microns. The result is better airflow without sacrificing filtration. And because the fabric is so durable, it can be washed and reused over and over.

DROP IT IN. FIRE IT UP.
Green High Performance Air Filters come pre-oiled, so they're ready to use right out of the box. Pop open your air filter box, remove your stock filter and drop in a Green High Performance Air Filter. You simply can't perform a simpler, less expensive upgrade that yields as much improvement in engine performance.

Find the filter for your car or truck.